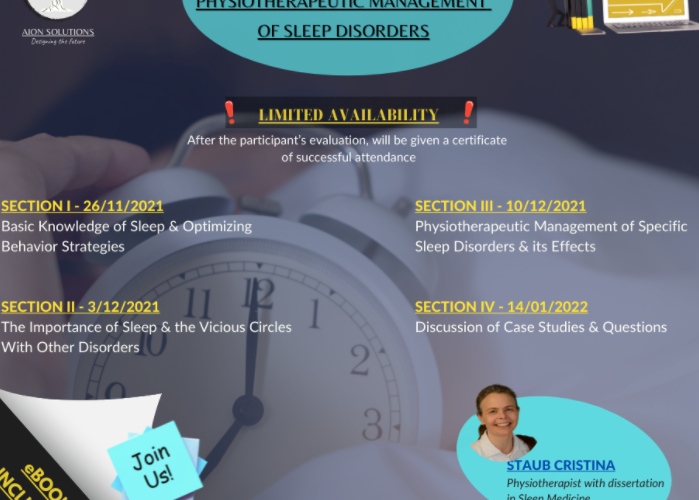 Physiotherapeutic Management of Sleep Disorders
Sleep disorders are often included in vicious circles connected to or even prodromal to many other diseases or problems such as diverse cardiovascular diseases, breathing disorders, metabolic dysfunction, immunodeficiency (e.g. multiple sclerosis), fatigue, increased pain perception, reduced performance, neuropsychological deficits, an increased risk for accidents and falls, and psychic and neurological problems (e.g. Parkinson's disease or dementia). 
Billions of people seek help every day for the  management of their sleep disorders.
Physiotherapists are definitely an essential part of this help.
This is why Aion Solutions' "Elysium Academy" is organizing this 4-days online course with the precious help of Dr. Cristina Staub,  an experienced physical therapist with dissertation in Sleep Medicine and an active member in the special interest group of sleeping disorders of the World Physiotherapy (World Confederation for Physical Therapy), who is going to help you learn more about the diagnostic procedures and therapeutic options that physiotherapists can apply in order to manage a sleep disorder.
WEBINAR'S AGENDA
Section I: Basic Knowledge of Sleep & Optimizing Behavior Strategies
27/11/2021 – 17:00 (CET)
Definitions
Physiology
Sleep Regulation
Section II: The Importance of Sleep & the Vicious Circles With Other Disorders
4/12/2021 – 17:00 (CET)
Disorders
Objective Assessment 
Objective Tests
Section III: Physiotherapeutic Management of Specific Sleep Disorders & its Effects
11/12/2021 – 17:00 (CET)
Activation Exercises
Relaxation Techniques
Manual Therapy
Hydrotherapy
Electrophotherapy
Adaption of Devices 
Section IV: Discussion of Case Studies & Questions
15/01/2022 – 17:00 (CET)
If you are a physiotherapist or a physiotherapist student, join us to learn more about how physiotherapy and its evidence-based practices, can help manage obesity and make overweight patients more autonomous